Cemetery Work Days.  Several times each year RHCA members come together for a cemetery work day. Members work together mowing and trimming inside the cemetery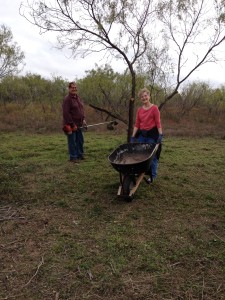 and around grave stones, removing dead and undesirable trees on the outside land, burning brush that was previously removed, and cleaning the mounds of garbage that have been illegally dumped for decades. While there are still a few small areas with remaining trash, the majority has been cleared and removed from the property. Even though the work is hard and usu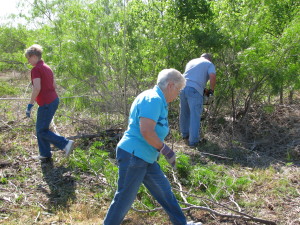 ally hot, members enjoy working together to transform Rose Hill back into a place of peaceful beauty. Upcoming work days and other events will be posted on this page's blog.
Grave Marker Restoration. Shortly after forming, the Rose Hill Cemetery Association contracted with a local restoration service to repair and reset numerous grave stones. Some of the stones had deteriorated over time but many appeared to have been pushed over by vandals.  After several weeks of careful work, all grave markers are upright, restored, and in good condition.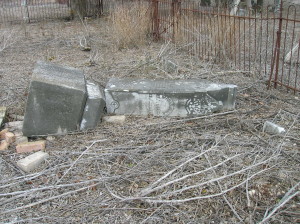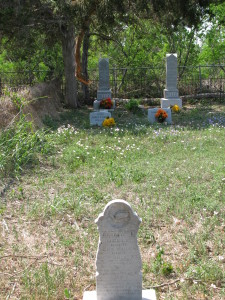 Replace/Rebuild Fencing. The old barbed wire fence around the perimeter had deteriorated and was missing in several places. This easy access into the property contributed to the illegal dumping which occurred over several decades. The new fence and gate were installed completely by association members with generous support from a grant by the Palm Valley Lutheran Church. The new fencing has improved the appearance and increased the security of the property. There have been no signs of new dumping since the fence and gate were replaced. A huge thank you goes to Palm Valley for supporting this project. RHCA members who want gate access can contact one of the officers or board members for the gate combination or look for the email you received from Laurel.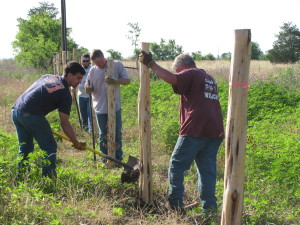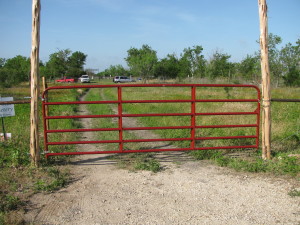 Land Management. After many years of negl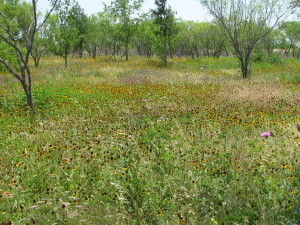 ect and inattention, the land at Rose Hill had become overgrown with thick brush, mostly mesquite trees. With guidance from an association member who is also a range and wildlife management specialist, members have reduced the density of mesquite trees while preserving much of the native grasses, wildflowers, trees, birds, and other wildlife. With continued care and attention, Rose Hill is becoming the beautiful, natural piece of central Texas that looks much like it did when
our ancestors lived there.