The March 2017 work day was a success! Rose Hill is looking great after sixteen people came together on a beautiful spring day to continue the important work at Rose Hill.
Participants from various families cleared debris, burned brush, treated unwanted vegetation, ground mesquite stumps, and mowed grassy areas. Along the way members also visited with one another, admired a handsome lizard, ate Loraine's delicious muffins, held a baby bunny, laughed, and were thankful for the cool weather and beautiful scenery. Visitors can enter the property on the newly installed gravel drive and park without fear of getting stuck in the mud or falling in a hole.
Not long ago, Rose Hill could not be described as scenic. But because of diligent and continuous work, the land has been transformed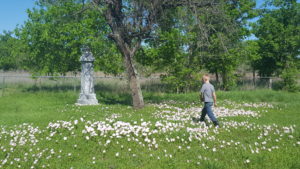 from a neglected rat-infested dumping ground to a lovely piece of Central Texas land with open grassy areas, shady spots to rest, and a variety of wildflowers, birds, and small animals. Members of the cemetery association have respectfully turned Rose Hill to a place that honors the final resting place of the pioneers who once lived there.
Future projects include collecting Rose Hill history, learning more about the people who lived there, and continuing the land restoration.
(Photos courtesy of Bennie Engelke, Trisha Nelle, and Laurel Nelle)