Since it's Back-to-School time it seems appropriate to post this wonderful picture of children in front of the Rose Hill School many years ago. Bennie Engelke, member of Rose Hill Cemetery Association, sent these pictures from the family files of Neal and Ina Voelker, also RHCA members. The photo shows what appears to be 14 students and one teacher, sitting on the front steps of the school on what may be a special occasion, judging by the jackets the boys are wearing.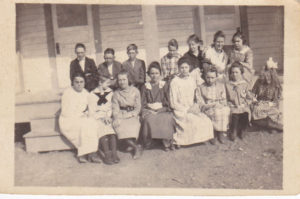 The accompanying hand-written note (below) is a list of those in the photo and appears to be in the order they are seated.  While it's difficult to know for sure and some of the names are not complete, here is a good guess of who the people are in the photo, based on the note:
Back row: Meier, George Nelle, Monroe, Gertrude Johnson, Myrtle Sunberg, Mayme Nelle.
Front row: Miss Stole, Ethel, Theresa, Ann (the writer's mother), Katie Lou, Frieda, Zora, and Antoinette Nelle
If anyone has more information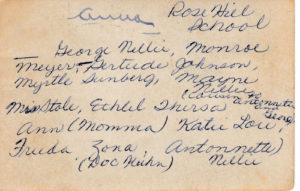 about the people in the picture, or more complete names or spellings, please respond in the comments or let Laurel know.
Thank you Bennie, Ina, and Neal for this wonderful piece of Rose Hill's history!