Rose Hill is always beautiful, however spring is especially pretty. Now that the trash is gone and much of the brush has been thinned, it's easier to see the beauty of the property. These Mexican Evening Primroses are beautiful and abundant this year.
The Indian Paintbrushes are scattered and blooming right now. Mowing is intentionally delayed until after most wildflowers produce seeds in order to increase their population next year. Up close, the Paintbrush is startlingly intricate and beautiful.
My grandmother, Lucile Nelle, often talked about this little flower called Blue Eyed Grass. To her it was a sign of spring and whenever I see it now I think of her.  And of course there are always lots of butterflies wherever flowers are blooming, like this pair.
Rose Hill is home to a variety of wildlife like this Texas Thorny Lizard. Isn't he handsome?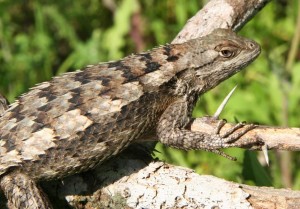 More varieties of flowers will bloom over the next month or two so plan to visit Rose Hill soon. These pictures were taken in spring 2014 and give a sample of blooms to come.
Life is good these days out at Rose Hill. Our ancestors chose a great spot to settle–come see for yourself. Thank you to Steve Nelle for these wonderful photographs.