Back in the late 1980s, Austin decided it needed a new airport in a less populated part of town. For several years it appeared that Rose Hill would be the victim of the new airport and the graves relocated to make room.
Luckily for us, the plans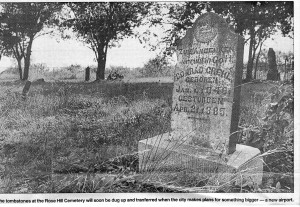 changed. The new airport was built on the site of the old Bergstrom Air Force base near Del Valle. Rose Hill survived.
During that time several individuals and groups conducted a good deal of research to document the history and archaeology of the area before its destruction. This fascinating article written by Will Kitts and photographed by Frank Ordonez, appeared in The Daily Texan(student newspaper of the University of Texas) on July 20, 1988. Here are his words:
No Rest for the Weary…
Manor Airport Threatens 100-year-old Graveyard
Hemmed in by fertile stands of corn and sorghum near Manor, a small, 100-year-old graveyard is doomed. Two miles to the south, U.S. Highway 290 hisses a steady flow of traffic. A junk heap of moldy carpeting and old boards rests not 30 feet from the chain-link fence. And now, worse still, this half-acre plot lies in the path of the new Austin airport.
Over the years, a number of graves have been moved to other sites. Many of the headstones have crumbled to the ground, while others lean to one side like masts on a choppy sea. The names inscribed here—Herzer, Wehlman, Meir, Schlosser—hark back to the German-Lutheran settlers who came in the mid-19th century—farmers, ranchers, and merchants.
Their community, Rose Hill, died about 50 years ago. This grouping of some 40 graves testifies to what came before—to the church and school that once stood nearby. It is a stopover, still, for people and their memories.
But not for long. The remaining graves will be uprooted by the city of Austin and relocated to a Pflugerville cemetery, or to individual sites preferred by relatives.
And the heavy equipment will come too, churning up walls of dust and filling the air with a din of engines. Before this onslaught swallows up the past, a look at the area's first developers may be in order.
The grassy spot that will soon lie beneath runways and lobbies and baggage-claim areas was donated in 1880 by Henry Nelle, a prosperous rancher and landowner. He set aside 5 ½ acres for a church, school, and cemetery. The town, known at that time as Nelleville, already had a small school that doubled as a church, but Nelle apparently had bigger plans.
A German of French extraction, Nelle came to Texas in about 1850, and by the time the Civil War broke out, "possessed 26 fine horses, some cattle, a yoke of oxen, and a covered wagon," according to a family history written by his son William. Nelle interrupted his horse trading business to fight in the Confederate Army, returning to his home in the Manor area in 1865. In the next 15 years, Nelle became a wealthy man.
When the donated property, which sits atop a slight crest, was planted with roses, Nelleville ceased to exist, and became Rose Hill.
Rose Hill citizens soon built a new school north of where the first one had been, but it was not until 1887 that firm plans were made to build a church.
On Oct. 14, 1888, the first services at Rose Hill Evangelical Lutheran Church were held, the structure having been built by "eighteen church members and their families," a church history states. A pastor agreed to conduct services the fourth Sunday of each month for a fee of $3.50 per service.
Henry and Dora Nelle's first child, Emma, who had died of scarlet fever 15 years earlier, was then reburied at the cemetery next to the new church. Her brother, William, was 4 at the time.
"Emma was the first to occupy a place in our plot. Mother supervised the moving of the remains. The entire family was present when the casket was lowered," William wrote.
In 1893, a couple of civic-minded men donated an organ to the congregation, and two years later a fund was started toward the purchase of a church bell costing $73. At sunset on Saturdays and again at dawn the following morning, Fritz Voelker would ring the new bell to signal that all was well on Rose Hill.
In September of 1900, Henry Nelle became ill and died soon thereafter. But he lived long enough to witness the initial flourishing of the seeds he had planted.
A year later, the congregation elected Lydia Voelker as an organist, but the church was able to pay her only $10 of her annual $15 salary. From the very beginning, the church had been plagued by money shortages. Unable to pay for a full-time preacher, various churchmen from Richland and Pflugerville preached to Rose Hill worshipers on a part-time basis.
Music played a central role in the community's social scene as well. The town held many dances at the turn of the century, with couples moving to the strains of the Rose Hill String Band. Henry Nelle's son James headed the orchestra, and was "a good musician," his brother wrote.
A baseball team was formed at about this time by another brother, Joe. William wrote: "We soon had an invincible team, capable of not only coping with but winning over the best teams to be found in our territory."
In 1908, the rose Hill congregation supported an organized choir of 19 members, yet at the end of another five years, even the small formality of keeping minutes of church meetings had been dropped. By 1914, the Rose Hill Evangelical Lutheran Church had hired its last pastor, a Rev. G. Zucher. The final confirmation class, consisting of 10 students, graduated in 1918.
Town residents began to move away to larger communities when cotton prices slumped in 1913. Most accounts of Rose Hill depict a gradual decline between World Wars I and II. Still, the one-room school-house was enlarged to two rooms in 1919, and continues to see improvements year-to-year.
Church elders in 1924 decided to dissolve the congregation and sold the church building to a Lutheran congregation in nearby Elgin for $225. In June and July the building was dismantled and moved to Elgin. By September, 36 years after its founding, the transplanted church building was dedicated as the new St. Peter's Evangelical Lutheran Church.
St. Peter's built a new church in 1953. The original Rose Hill bell hangs there today and "is still in use every Sunday," a church spokeswoman said.
The Rose Hill School outlasted the church, but a 1936 photograph shows only 16 students, and there is no record of a Rose Hill School District after the 1938-39 school year.
Several homes built by Rose Hill's earliest residents will be razed to make way for the airport project. A study done for the City of Austin by Lone Star Archeological Services considers these sites, together with the cemetery, as possible candidates for the National Register of Historic Places as well as State Archeological Landmarks.
But the airport momentum seems irrepressible. The march of time will surely erase these ragged and lonely footnotes to the past, just as it erased the families who left them. A major hurdle will be cleared when the Federal Aviation Administration approves an environmental impact study prepared by city consultants Turner Collie & Braden, Inc. With appropriate irony, this nod is expected to come in October, exactly 100 years after the congregation first gathered on Rose Hill.
And so, progress encroaches on Rose Hill's weary bones. In a short while, people who might still wonder about the long-ago life on this small knoll northeast of Manor will have no tangible proof of its existence.
Those people might pass by the old graveyard one more time before it's too late. There, they may find solace on the tombstone of Emma Nelle, who left her family behind at the
tender age of 5.
Translated from the German, the end of the inscription reads:
God has taken you
As He will all of us to death
And we'll all be together eternally
This faith quiets our crying.